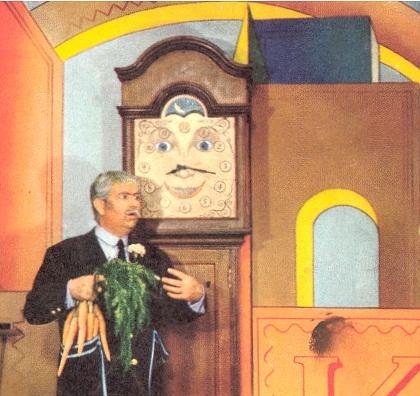 Bob

Keeshan

(Captain Kangaroo) CBS TV 1955-85

with

Grandfather Clock
"
We see how measurable time

is not

the original time,
how there is a priority of the relationship with the future
as

a relationship with a possibility

and

not

as a reality:
the

concrete

manner in which such an idea is thought is
therefore the analysis of death."
Emmanuel

Levinas




God, Death, and Time
I hear the lament daily, "I just don't have the time".
It appears that as the Harvest Moon looms larger,
so does our collective nostalgia for 'simpler times'.
But what if we had "All the Time in the World"?
Right now, in this moment?
Short answer is: we do.
"#2 Dogwood / Toward Nursing Facility"© 2009
"Autumn Missed Subset"
from the Convenient Non-locality Series©
This year, this Fall, open up your imaginations and realize
that the brilliant Golds and Oranges of Autumn do not just appear -
they

segue

along the undulating path of the mundane.
Gather up the process that is time.
Paint, read fiction,speak to your neighbor, mulch high your dreams.
Don't punch your time clock: embrace it as your friend.
"#4: Morning Glories /

USAir

to St. Louis"© 2009
"Autumn Missed Subset"
from the Convenient Non-locality Series©
Now it's time to put away your position papers, your to do lists, your formats
and schedules and expectations.
Gather the kids and the pets and the house plants and the significant others.
It's time to give thanks.
It's time to notice the nuances.
Don't let this be the Autumn Missed.
It's time to sing along!
Everybody join in!